Marquee
289 10th Ave, New York, NY 10001
WHATSAPP US
For Bookings, Prices and more Infos

Book Your VIP Table
Contact your 24/7 Global Nightlife Concierge for last minute booking and further questions.
Marquee New York Bottle Service and VIP Table Booking
Adorned with colorful LED screens and lights, Marquee New York is home to plenty of night owls looking for a great time. Enjoy the night in this multi-level dance club featuring a 30-foot ceiling that is sure to leave you in awe. For those who want a sophisticated quiet night, the Library Bar is available in Marquee's Mezzanine. The club itself is a mini version of Marquee Las Vegas. Marquee NYC is newly relaunched to set standard as a premier mega nightclub destination for NYC partygoers.
Marquee Club New York Information
What is the Cover Charge of Marquee?
Marquee's cover charge greatly depends on who the DJ is for the night. Expect to pay somewhere between $ 40 - $ 70. You can choose to avail a bottle service the will cost you around $ 600 to $ 7,500 depending on where you are seated and how many you are in your group.
What is the price for a VIP table at Marquee New York?
Table prices in Marquee NYC start from $ 1,500 for a table away from the dancefloor. For VIP dance floor tables, be prepared to shell out $ 7,500. All tables include a dedicated waitress and complimentary mixed drinks. Depending on the size of your group, a bouncer may also be provided to your table.
When to book a table at Marquee?
Tables at Marquee New York sell out fast, if you plan on availing a table, make sure you reserve ahead of time. Club Bookers handles Marquee New York tablebooking, let us help you get table for your scheduled nightout.
What is the dress code for Marquee New York?
Being an upscale and trendy club, Marquee's dress code is no different from other clubs in
NYC
. For men, collared shirts are accepted, but make sure to pair them up with great pants and shoes. For the ladies, you can never go wrong with your little black dress and pumped up heels when you visit one of the
best night clubs in New York
!
Opening Times
| a | b |
| --- | --- |
| Sunday | Closed |
| Monday | Closed |
| Tuesday | Closed |
| Wednesday | 10:00 PM To 04:00 AM |
| Thursday | Closed |
| Friday | 10:00 PM To 04:00 AM |
| Saturday | 10:00 PM To 04:00 AM |
Floor plan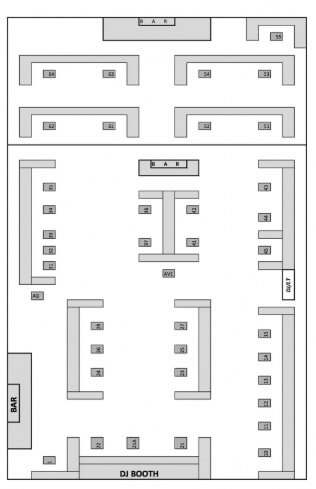 Please get in touch with our nightlife concierge on whatsapp to receive latest table floor plan.
Dubey
29.02.2020
5 stars deserved! Great ambiance and great vibes. Everything was perfect, the decor, the music, the drinks.
Laura
29.02.2020
I went here for my birthday with some friends and got a bottle service. Great night and great experience.
WHATSAPP US
For Bookings, Prices and more Infos
Contact Us
For more information please contact us directly
Other Clubs You May Like
Best party hotspots in New York
Sun,Mon,Tue,Wed,Thu,Fri,Sat
No Clubs Found
See All Clubs