Avenue
116 Tenth Avenue New York, NY 10011
WHATSAPP US
For Bookings, Prices and more Infos

Book Your VIP Table
Contact your 24/7 Global Nightlife Concierge for last minute booking and further questions.
Avenue New York Bottle Service and VIP Table Booking
The best event venue choice for celebrities like Kim Kardashian, Marc Jacobs, and Derek Jeter, to name a few - Avenue New York provides nothing but the highest caliber hospitality and service. The club is a 2-storey lounge situated at the intersection of Chelsea and Meatpacking District in NYC. Expect a state-of-the-art experience every time you enter this upscale and versatile club in New York City.
Avenue Club New York Information
What is the address for Avenue New York?
Avenue is located at 116 Tenth Avenue NY, NY 10011. It is conveniently situated in the crossroads of two major roads Chelsea and
Meatpacking District
. The club enjoys being in the "nightlife zone" of NYC.
What is the price for Avenue New York Bottle Service?
Getting inside Avenue if you are a man may be a bit difficult. The best way to do so is to reserve a table for your group to guarantee a VIP experience. Club Bookers handles Avenue New York Bottle Service reservations, as well as table service reservations.
What is the price for a VIP table at Avenue New York?
Tables at Avenue ranges from $ 500 for you and a friend to enjoy a bottle at the bar up to $ 7,500 for a premium table for you and 14 of your friends. Avenue New York Table prices are as follows: Minimum starting table: $ 500 - $ 625 VIP Tables: $ 2,000 - $ 2,500 Premium Corner: $ 7,500
What's in the Menu of Avenue New York?
Avenue also accepts private parties and events, that is why it has an in-house full service kitchen and bar that you won't see in other bars in the area. Mixologists in the bar can customize hundreds of varieties of cocktails, mixed drinks, hor d'oeuvres as well as entrees and desserts. Cocktails start at $ 15 while bottles do at $ 350.
What is the dress code for Avenue New York?
Avenue is not as strict as other nightclubs in the area, collared shirts and jeans are acceptable for men while heels and dresses for ladies usually do the trick. Just remember to look smart and dress up to impress, you'll good to enter to one of the
best night clubs in New York
!
Opening Times
| a | b |
| --- | --- |
| Sunday | 11:00 PM To 04:00 AM |
| Monday | 11:00 PM To 04:00 AM |
| Tuesday | 11:00 PM To 04:00 AM |
| Wednesday | Closed |
| Thursday | 11:00 PM To 04:00 AM |
| Friday | 11:00 PM To 04:00 AM |
| Saturday | 11:00 PM To 04:00 AM |
Floor plan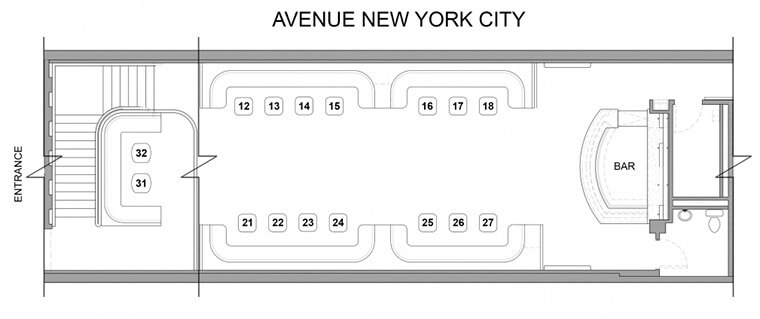 Please get in touch with our nightlife concierge on whatsapp to receive latest table floor plan.
Patel
29.02.2020
Very friendly staff, bouncers at the door were very helpful and friendly. Venue is nice, good music and great atmosphere
Rachel
29.02.2020
This place was really fun. We went there for a bachelorette party and it was amazing. The DJ was great and kept us dancing all night.
Neisha
29.02.2020
One of the best nights I have ever had. Great atmosphere, the music and service, top notch.
WHATSAPP US
For Bookings, Prices and more Infos
Contact Us
For more information please contact us directly
Other Clubs You May Like
Best party hotspots in New York
Sun,Mon,Tue,Wed,Thu,Fri,Sat
No Clubs Found
See All Clubs
24/7

VIP NIGHTLIFE CONCIERGE

Contact Us Now For Bookings, Prices and Party Recommendations