Story
136 Collins Ave Miami Beach FL
WHATSAPP US
For Bookings, Prices and more Infos

Book Your VIP Table
Contact your 24/7 Global Nightlife Concierge for last minute booking and further questions.
Story Miami Bottle Service and VIP Table Booking
If you are looking for the perfect nightlife experience in the middle of Miami, Story is the place to be. Located at 136 Collins Ave, Miami Beach, this neon-lit club on steroids is created by MMG, the brains behind the famous LIV Nightclub. Be enthralled with the amazing Infinite Hybrid System where you can hold a conversation in a normal tone without having to scream and yell at the person next to you, but can also hear the music loud enough that you feel like you're in the middle of the dance floor. The 27,000 square foot space of the venue is enhanced by the stunning visuals and larger than life concert-style lighting. The partying experience will never be the same again after experiencing the electric vibe of Story Miami. Every night, the in-house production and design team makes magic and changes Story into a majestic circus-style vibe that is definitely unparalleled like no other.
Story Club Miami Information
What type of music they play in Story?
EDM, Open Format. Regular DJs include Guy Gerber,
Marco Carola
, Jaime Jones and Dubfire. Story Miami Busy Night Thursdays are the busiest day for this venue.
What is the Capacity of Story?
Situated in the heart of South Beach, the venue can fit 1,000 guests.
How is Bottle Service in Story Miami?
Experience VIP treatment from the staff with its five bars and premium bottle service.
How many VIP table they have in Story?
The venue has 60 exclusive VIP tables & five full-service bars.
How can I get on the guestlist of Story Miami?
Due to the venue's popularity, it is always best to buy tickets ahead of time but will still have to fall in line. Club Bookers can secure your booking, so get in touch.
What is the dress code for Story?
To say that one should "Dress to Impress" at Story is an understatement. This is a place to see and be seen and the strict door policy is implemented. Needless to say, dress your best and party on at one of the
best night clubs in Miami
!
Opening Times
| a | b |
| --- | --- |
| Sunday | Closed |
| Monday | Closed |
| Tuesday | Closed |
| Wednesday | Closed |
| Thursday | 11:00 PM To 05:00 AM |
| Friday | 11:00 PM To 05:00 AM |
| Saturday | 11:00 PM To 12:00 AM |
Floor plan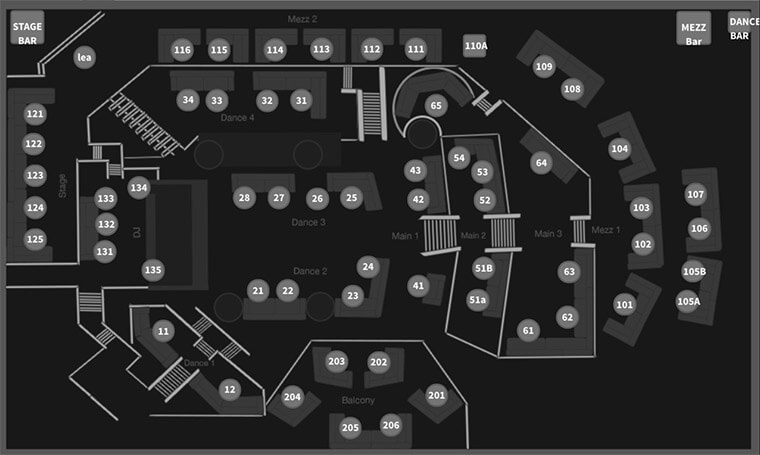 Please get in touch with our nightlife concierge on whatsapp to receive latest table floor plan.
Sophie
29.02.2020
Story is a nice venue but it gets really packed though. Drink prices are average considering you're in miami.
Aida
29.02.2020
Definitely a place to go. Great service. Music is incredible and the shows are just amazing and they keep having new ones every single week.
WHATSAPP US
For Bookings, Prices and more Infos
Contact Us
For more information please contact us directly
Other Clubs You May Like
Best party hotspots in Miami
No Clubs Found
See All Clubs