Club Space
34 NE 11th St., Miami, FL 33132 United States
WHATSAPP US
For Bookings, Prices and more Infos

Book Your VIP Table
Contact your 24/7 Global Nightlife Concierge for last minute booking and further questions.
Club Space Miami Bottle Service and VIP Table Booking
Famous for its top notch electronic and house talents, Club Space is synonymous with dance music. It is a club where foot shuffling clubbers go for simple pleasures ofenjoying the music. Club Space has been in the business for more than 15 years and considered as one of the institutions in Miami nightlife scene.
Club Space Miami Information
What is the address for Club Space?
Club Space is situated at 34 NE 11th Street,
Downtown Miami
, Florida. It is a 25,000 square foot complex with 3 rooms.; the main room has a huge VIP area, meanwhile the upstairs loft and the rooftop patio regularly hosts daytime parties.
What is the entry fee for Club Space?
This best dance club in Miami offers reasonable ticket prices despite its superstar reputation. Entry tickets range from $ 20 - $ 40 depending on the event. Always be ready to shell out those amounts to get inside.
How can I get on the guestlist of Club Space?
Club Space does have a guestlist for some events. Cover charges start from $ 20 - $ 40 and on nights where top DJs perform, expect to pay a little higher. You can book with Club Bookers for a trouble free nightclub experience in Miami.
What is the price for Club Space Bottle Service?
The club offers several table options that patrons can choose from. Here are the packages they offer: Dance Floor Table - $ 350, 1 bottle for 5 guests; Large Dance Floor Table - $ 700, 2 bottles for 10 guests; and DJ Booth Table - $ 1000, 3 bottles for 15 guests.
What is the dress code for Club Space?
Based on Miami club standards, the Club Space dress code is not too strict. Club and Rave attires are acceptable, as long as you look presentable. Jeans and trainers are okay if they are in good condition. Everyone wants to be comfortable while dancing at one of the
best night clubs in Miami
.
Opening Times
| a | b |
| --- | --- |
| Sunday | 12:00 AM To 11:00 PM |
| Monday | Closed |
| Tuesday | Closed |
| Wednesday | Closed |
| Thursday | Closed |
| Friday | 11:00 PM To 06:00 AM |
| Saturday | 12:00 AM To 12:00 AM |
Floor plan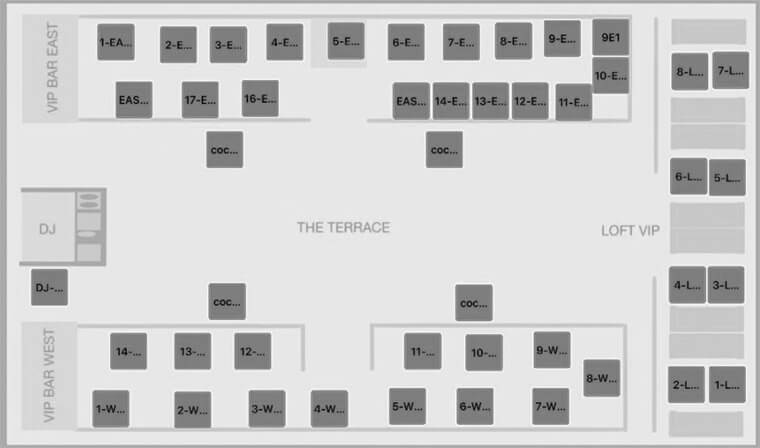 Please get in touch with our nightlife concierge on whatsapp to receive latest table floor plan.
Jonelle
29.02.2020
Perfect for a birthday with friends. Booked bottle service as we were a group of 10 and everyone had a blast. Cannot wait to come back
Samji
29.02.2020
Nice place, good music, very good atmosphere. Staff not very friendly but still managed to have a good night
WHATSAPP US
For Bookings, Prices and more Infos
Contact Us
For more information please contact us directly
Other Clubs You May Like
Best party hotspots in Miami
No Clubs Found
See All Clubs