Conga Room
800 W Olympic Blvd, Los Angeles, CA 90015, USA
WHATSAPP US
For Bookings, Prices and more Infos

Book Your VIP Table
Contact your 24/7 Global Nightlife Concierge for last minute booking and further questions.
Conga Room Los Angeles Bottle Service and VIP Table Booking
Co-owned by the leading names like Jennifer Lopez, Jimmy Smits, Baron Davis, will.i.am, Trevor Ariza, and so more –the Conga Room is a lively nightclub in Los Angeles, CA welcoming high-class elite clubbers & celebrities from across the world. The Conga Room Los Angeles is known for featuring intense live entertainment & pan-Latin cuisines for its guests. At this nightclub, you can experience unmatchable world beats including jazz, hip hop, DJ, pop, rock, r&b, Espanol, and so more to keep your feet moving all night long.
Designed by the award-winning world-famous Belzberg Architects, the Conga Room nightclub boasts a spectacular VIP area offering panoramic views to the Nokia Plaza & the Staples Center. The club is famous for having hosted a series of award shows, move debuts, record launches, and after-parties of intense entertainment including social, political, & even sports events. The club has also featured amazing concerts by leading artists like Justin Timberlake, Prince, Latin performers like
Shakira
, Celia Cruz, Carlos Santana, Tito Puente, and the famous Buena Vista Social Club.
Conga Room Club Los Angeles Information
What is the address for Conga Room?
The Conga Room nightclub in Los Angeles is located at the 800 W Olympic Blvd, CA.
What is the entry fee for Conga Room?
If you are listed on the guestlist of the Conga Room nightclub, you can get free entry on Fridays before 11 pm. Otherwise, you can pay a minimal entry fee of around $20 for getting entry into this amazing Los Angeles nightclub.
How can I get on the guestlist of Conga Room?
The Conga Room Los Angeles allows its guests to enjoy the free entry & amazing clubbing experience when listed on the special guestlist of the club. If you wish to join the guestlist of the Conga Room nightclub, reach out to us now on WhatsApp or call services. Our 24/7 concierge services will let you have the most eventful nightlife experience when in LA.
How to book a VIP table at Conga Room?
For enjoying an intense clubbing experience at the Conga Room nightclub, you must ensure pre-table bookings. Reach out to us now for making advance table bookings at the Conga Room nightclub in LA.
What is the dress code for Conga Room?
The Conga Room nightclub in LA allows for standard club wear as the basic dress code for its guests. Avoid wearing anything that could be considered as sportswear including sneakers, tracksuits, jackets, and so more at one of the
best night clubs in Los Angeles
. If you are availing the bottle services, you can get some leeway.
Opening Times
| a | b |
| --- | --- |
| Sunday | Closed |
| Monday | Closed |
| Tuesday | Closed |
| Wednesday | Closed |
| Thursday | Closed |
| Friday | 09:00 PM To 02:00 AM |
| Saturday | 09:00 PM To 02:00 AM |
Floor plan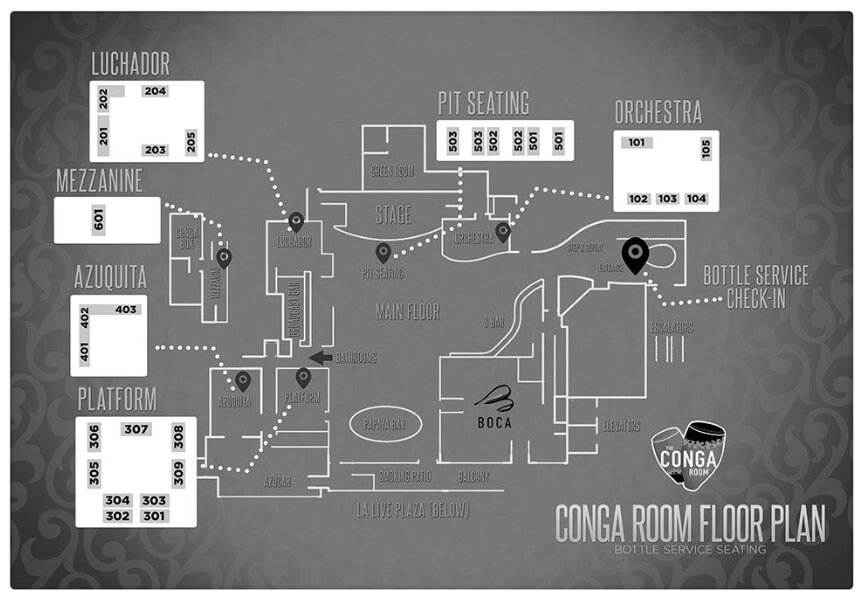 Please get in touch with our nightlife concierge on whatsapp to receive latest table floor plan.
Flori
28.02.2020
One of the best nights I have ever had. Great atmosphere, nice decor, classy crowd and good service.
Kate
28.02.2020
The live music was amazing at Conga room. Had an amazing night dancing and drinking. Highly recommend when in LA
Ash
28.02.2020
Definitely a place to go. Great service. Music is incredible and the shows are just amazing and they keep having new ones every single week.
WHATSAPP US
For Bookings, Prices and more Infos
Contact Us
For more information please contact us directly
Other Clubs You May Like
Best party hotspots in Los Angeles
Top 40, Hip Hop, Mix of EDM
Mix of nu-disco, deep house, indie
No Clubs Found
See All Clubs