Blind Dragon
9201 Sunset Blvd, West Hollywood, CA 90069, USA
WHATSAPP US
For Bookings, Prices and more Infos

Book Your VIP Table
Contact your 24/7 Global Nightlife Concierge for last minute booking and further questions.
Blind Dragon Los Angeles Bottle Service and VIP Table Booking
Welcome to the intimate Asian paradise and enjoy exotic crafted cocktails & cosmopolitan crowd as you dance your way through the night at this club in LA. Revel in the opulent setting as Blind Dragon Los Angeles brings to you an innovative nightlife experience throughout. Blind Dragon is an exclusive Asian-inspired lounge & the club that offers a unique set of private karaoke suites for an everlasting experience. Once you enter the club through the garage, you are welcomed by the beautiful Chinese lanterns & crazy butterfly windows looming over the glorious red sofas, a mini Mao, black lacquer screens, and ample lush plant life.
Once inside the lounge, you can order drinks & cocktails as you please across the main space. Blind Dragon is known for offering 4 luxury sing & amazing karaoke suites for the guests to have the ultimate entertaining session. You can also go through the playful tiki/Asian food menu that makes your clubbing experience even livelier!
Blind Dragon Club Los Angeles Information
What is the address for Blind Dragon?
The Blind Dragon nightclub in Los Angeles is located at 9201 Sunset Blvd,
West Hollywood
, CA 90069.
What is the entry fee for Blind Dragon?
The private karaoke rooms might cost you around $150 per hour for the given 2-hour slot. The rates at Blind Dragon are based on a rental basis ranging from around $100 per hour for smaller suites (10 people) and above $150 per hour for larger suites (10-20 people).
How can I get on the guestlist of Blind Dragon?
Blind Dragon functions either on the bottle service or as a rental service for the karaoke suites. To experience the grandeur & the excitement of the karaoke suites, reach out to us now on WhatsApp. You can also give us a call right away! Let our 24/7 concierge services offer the best clubbing experience to you!
How to book a VIP table at Blind Dragon Los Angeles?
For ensuring a seamless & fun-filled experience at the Blind Dragon, you can go for making pre-table bookings with us. Contact us now on WhatsApp or through our call services!
What is the dress code for Blind Dragon?
To be a part of the elite, cosmopolitan culture of one of the
best nightclubs in Los Angeles
, be dressed in smart casuals. You are not supposed to be available in sportswear including tracksuits, jackets, sports shoes, and others.
Opening Times
| a | b |
| --- | --- |
| Sunday | Closed |
| Monday | Closed |
| Tuesday | 08:00 PM To 02:00 AM |
| Wednesday | 08:00 PM To 02:00 AM |
| Thursday | 08:00 PM To 02:00 AM |
| Friday | 08:00 PM To 02:00 AM |
| Saturday | 08:00 PM To 02:00 AM |
Floor plan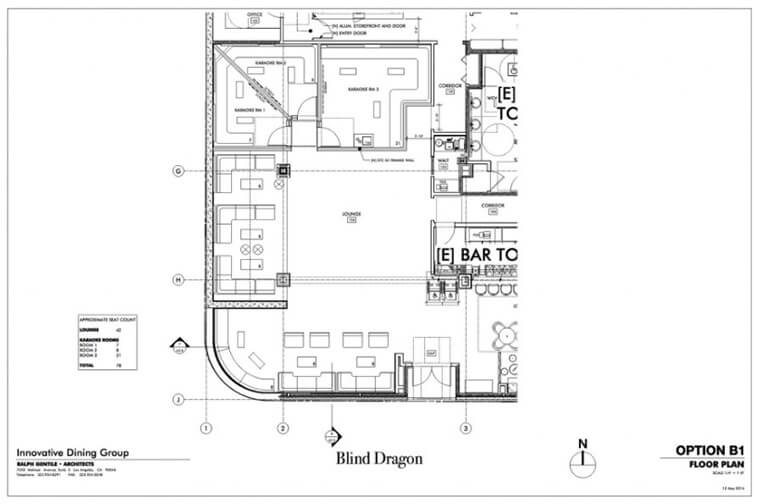 Please get in touch with our nightlife concierge on whatsapp to receive latest table floor plan.
Vi
28.02.2020
Nice small club with a fancy crowd and spot on music.Tad of expensive but justifiable. One of my favorite spots in LA
Jeremy
28.02.2020
Ambiance was amazing and the karaoke rooms are great- love that it's all separated from the main room.
WHATSAPP US
For Bookings, Prices and more Infos
Contact Us
For more information please contact us directly
Other Clubs You May Like
Best party hotspots in Los Angeles
Top 40, Hip Hop, Mix of EDM
Mix of nu-disco, deep house, indie
No Clubs Found
See All Clubs