Tao
3355 Las Vegas Blvd South Las Vegas, NV 89109 United States
WHATSAPP US
For Bookings, Prices and more Infos

Book Your VIP Table
Contact your 24/7 Global Nightlife Concierge for last minute booking and further questions.
Tao Las Vegas Bottle Service and VIP Table Booking
Tao Las Vegas is a nightclub, restaurant, pool party lounge - take your pick! Tao is a multi-faceted venue, an all-in- one place to explore, see and be seen. Upon entering the club, you would definitely notice Tao's attention to details. Walk into its hallway and you will witness exotic girls lounging and dancing in oversized tubs filled with rose petals. Head up the stairs, past some huge Buddhas and walk into an energetic party where you'll see a decorative abacus and the hottest go-go dancers enjoying the mix of Top 40, House and Hip-Hop music in the dance floor. It is a place with 2 main rooms that can hold 2,500 patrons so twice the party, the fun, music and experience for everyone. It also has an outside terrace overlooking the Strip as well as Tao Beach which can be used as an alternative to the dance floor, who wouldn't want to join in this vibrant happening place? Tao Las Vegas is paired with an Asian bistro restaurant and a lounge.
Tao Club Las Vegas Information
What is the address for Tao?
A staple in the Grand Canal Shoppes at The Venetian, Tao Las Vegas is located on the second level of the
Venetian Hotel
at 3355 Las Vegas Blvd South Las Vegas, NV 89109 United States. The club opens at 10 PM up to 4 AM on Thursday, Friday and Saturday.
What is the entry fee for Tao Las Vegas?
General admission starts at $ 10 for ladies and $ 20 for gentlemen on regular nights – expect more on holidays and special events It is always a busy night during Thursday, Friday and Saturday so buying your tickets ahead of time is the best way to enjoy a night at one of the
best night clubs in Las Vegas
, you may ask and reserve your seats with Club Bookers.
How can I get on the guestlist of Tao?
The club opens at 10:30 PM, so be there early to beat the crowd. If you want a hassle-free reservation ask about the club's guestlist from Club Bookers.
What is the price for Tao Las Vegas Bottle Service?
Bottle starts at $ 425 while table rates are - The Opium Room Table costs $ 550 for 6 guests and $ 1,000 for 10 guests, Skybox Main Room Tables prices start at $ 1,000. Dance floor tables are $ 2,500 to $ 3,500. For bottle service, you may contact Club Bookers to help you get prime table locations.
Opening Times
| a | b |
| --- | --- |
| Sunday | Closed |
| Monday | Closed |
| Tuesday | Closed |
| Wednesday | Closed |
| Thursday | 10:00 PM To 04:00 AM |
| Friday | 10:00 PM To 04:00 AM |
| Saturday | 10:00 PM To 04:00 AM |
Floor plan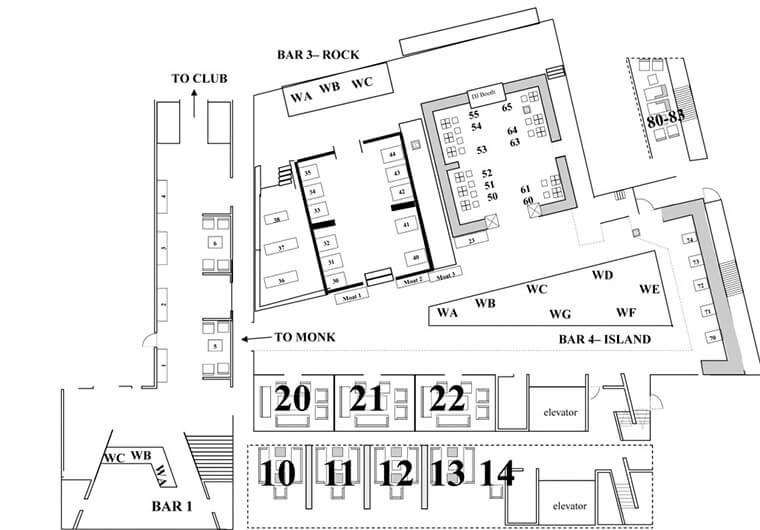 Please get in touch with our nightlife concierge on whatsapp to receive latest table floor plan.
Huw
27.02.2020
A great experience. Lovely welcoming staff and great music, a touch expensive but overall an incredible night.
Ahmed
27.02.2020
Amazing place for a VIP night out. Booked bottle service which was located right on the dance floor.
Eric
27.02.2020
Definitely a place to go. Music is incredible and the shows are just amazing and they keep having new ones every single week. I'll definitely be back.
WHATSAPP US
For Bookings, Prices and more Infos
Contact Us
For more information please contact us directly
Other Clubs You May Like
Best party hotspots in Las Vegas
No Clubs Found
See All Clubs
24/7

VIP NIGHTLIFE CONCIERGE

Contact Us Now For Bookings, Prices and Party Recommendations