Marquee
3708 Las Vegas Blvd S Las Vegas, NV 89109
WHATSAPP US
For Bookings, Prices and more Infos

Book Your VIP Table
Contact your 24/7 Global Nightlife Concierge for last minute booking and further questions.
Marquee Las Vegas Bottle Service and VIP Table Booking
Marquee Las Vegas offers a party venue like no other. With its opulent 60,000 square feet of space, a rooftop patio with a spectacular view of Las Vegas, an ultra pool-club, and the best DJs from around the world - this all-nighter venue will blow you away. The magnificent venue designed by David Rockwell and custom visuals by V Squared Labs are great sights to behold. The live VJ controlling content on a 40-foot LED wall and choreographed costumed performers courtesy of artistic director Genevieve Cleary are enough attractions for the club goers to come back for more.
Marquee Club Las Vegas Information
What is the address for Marquee?
The Marquee Las Vegas can be found at
The Cosmopolitan of Las Vegas
, 3708 S Las Vegas, Las Vegas Blvd, NV 89109.
What are the cover charges of Marquee?
Expect to pay around $ 30 to $ 50 for guys and $ 20 to $ 30 for girls as general admission fee. Depending on holidays and special events with big name DJs, door prices will change accordingly.
What is the price for Marquee Las Vegas Bottle Service?
You can avail a bottle service in Marquee Las Vegas for $ 475. Mixed drinks and cocktails prices start at $ 15, Beers $ 8 and Shots $ 8. Pitchers can be availed starting at $ 75. Contact Club Bookers for easy transactions of you bottle or table reservations.
What is the price for a VIP table at Marquee Las Vegas?
The minimum table cost in the Main Room of Marquee Las Vegas starts at around $ 5,000. On nights with a top tier talent, the minimum price goes up from $ 7,000 to $ 8,000, excluding tax and tip. The back tables in the Main room can be availed for $ 2,000 to $ 3,000 depending on the night's performer. For big parties, it is better to avail a table service in the patio or Marquee's other rooms. Try the Boom Box Room, the most economical choice since it can be availed for as low as $ 500,and the other option is the Library. The Boom Box Room usually plays hip hop music while the Library, with its pool table, is perfect for a discrete VIP lounge vibe.
What is the dress code for Marquee?
Men must wear button-up, collared shirts and dress shoes at one of the
best night clubs in Las Vegas
. Jeans are acceptable as long as they look good and they aren't torn or worn down. Don't wear baggy jeans, tennis shoes, shorts, baseball caps, jerseys, or cut-offs.
Opening Times
| a | b |
| --- | --- |
| Sunday | 11:00 AM To 06:00 PM |
| Monday | 10:30 PM To 05:00 AM |
| Tuesday | Closed |
| Wednesday | Closed |
| Thursday | 11:00 AM To 06:00 PM |
| Friday | 11:00 AM To 06:00 PM |
| Friday | 10:30 PM To 05:00 AM |
| Saturday | 11:00 AM To 06:00 PM |
| Saturday | 10:30 PM To 05:00 AM |
Floor plan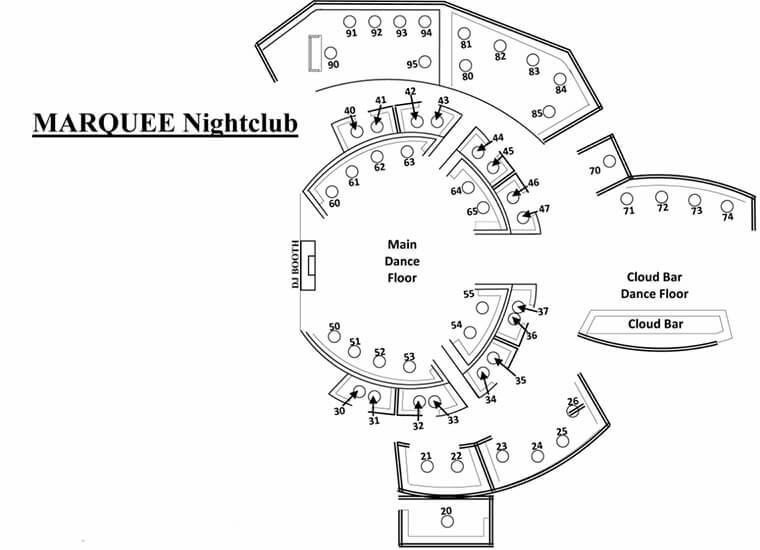 Please get in touch with our nightlife concierge on whatsapp to receive latest table floor plan.
Mario
27.02.2020
Nice venue, nice crowd, good music but very long queues. Go early to avoid waiting in line. Other than that fun place and good option for a big group. We were a mix of 10 people and all had fun.
Aurelia
27.02.2020
Been here several times and every time I have been impressed. Great venue if you're looking to enjoy Vegas in style. The best pool in my opinion.
Tony
27.02.2020
Definitely a place to go. Music is incredible and the shows are just amazing and they keep having new ones every single week. Service is on point.
WHATSAPP US
For Bookings, Prices and more Infos
Contact Us
For more information please contact us directly
Other Clubs You May Like
Best party hotspots in Las Vegas
No Clubs Found
See All Clubs
24/7

VIP NIGHTLIFE CONCIERGE

Contact Us Now For Bookings, Prices and Party Recommendations