Jewel
4300, 3730 S Las Vegas Blvd, Las Vegas, NV 89158, United States
WHATSAPP US
For Bookings, Prices and more Infos

Book Your VIP Table
Contact your 24/7 Global Nightlife Concierge for last minute booking and further questions.
Jewel Las Vegas Bottle Service and VIP Table Booking
Jewel Las Vegas brings the top-notch nightlife experience to the city party-lovers. Spanning over 24,000 square feet of intricately designed space, the Jewel nightclub is extremely inviting and evocative. Jewel aims at offering a multi-faceted nightlife experience in the city as it becomes the headlines with high-end DJs & performers sparkling up the overall ambiance. The Jewel nightclub boasts a unique style that complements the modern-age luxury aesthetics combined with rare conventional settings.
Over 1400 square feet of spectacular LED architectural ribbons offer a vibrant feel to the nightclub as you get ready to be a part of the rocking madness here every night. With as many as 5 special-themed VIP suites offering customized amenities, the Jewel nightclub is a dream-come-true in every form. The perfect convergence of impressive sound and light effects at the nightclub creates an immersive area for you to admire the overall ambiance of the place. If you wish to be a part of the grandeur offered by the magnificent Jewel nightclub in Las Vegas, reach out to us now!
Jewel Club Las Vegas Information
What is the address for Jewel?
The Jewel nightclub is located at the
Aria Resort & Casino
, 3730 S Las Vegas Blvd, NV 89158.
What is the entry fee for Jewel?
The entry fee ranges from $25 per person on standard nights to $75 on holidays or special nights like the New Year's Eve.
How can I get on the guestlist of Jewel?
Get yourself up & rocking by being a part of the Jewel Las Vegas's grand events & live DJ nights. Enroll yourself into the VIP guestlist of the nightclub by reaching out to us at WhatsApp. You can also get us via call services. For getting the maximum feel of your nightlife experience in Las Vegas, do not miss out our professional 24/7 concierge services.
How to Book a VIP table at Jewel?
Table bookings at the impressive Jewel Las Vegas can be made in advance for an everlasting experience. Join the rocking group of the club by contacting us on WhatsApp or through our call services. We are just a click away from VIP table bookings at the Jewel nightclub in Las Vegas.
What is the dress code for Jewel?
Jewel nightclub is all about being fashionable and high on couture. Therefore, do not miss out the opportunity of getting your entry into the club. Wear your best fashionable attire and look like a fashion diva throughout at one of the
best night clubs in Las Vegas
!
Opening Times
| a | b |
| --- | --- |
| Sunday | Closed |
| Monday | 10:30 PM To 04:00 AM |
| Tuesday | Closed |
| Wednesday | Closed |
| Thursday | Closed |
| Friday | 10:30 PM To 04:00 AM |
| Saturday | 10:30 PM To 04:00 AM |
Floor plan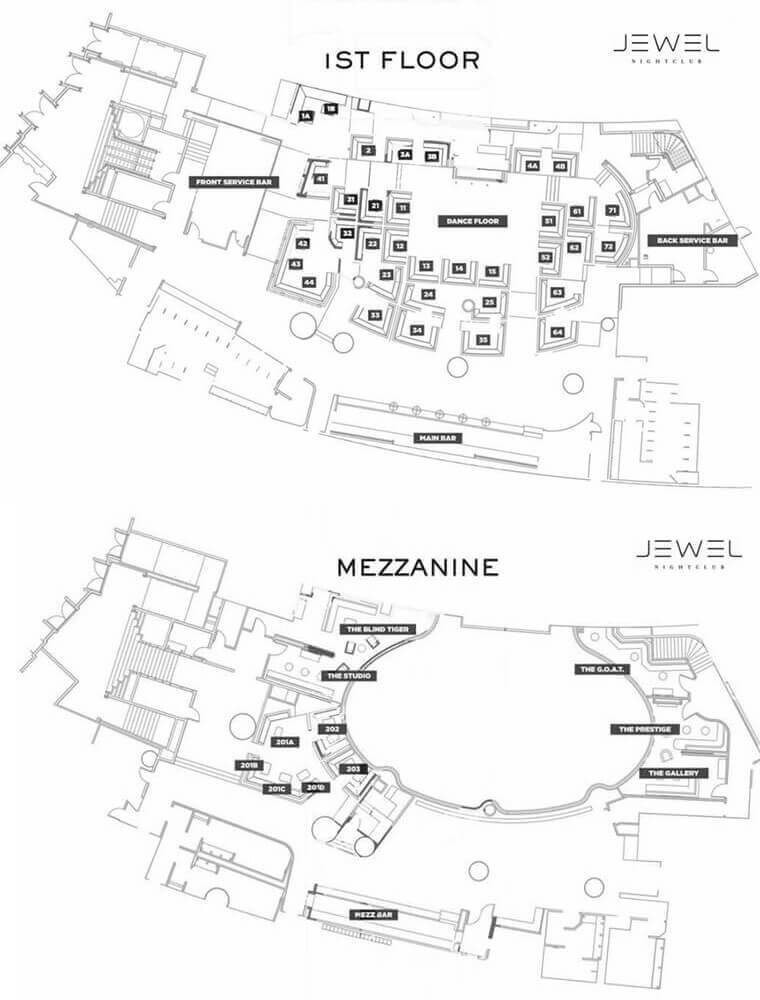 Please get in touch with our nightlife concierge on whatsapp to receive latest table floor plan.
Lou
27.02.2020
It is a small venue and to fully enjoy it I recommend going for bottle service. We got bottle service and skipped the line to get in so it was quite a good night.
Charlotte
27.02.2020
We had to wait around 30 mins in the queue to get in but it was worth it. The venue and the shows are great.
WHATSAPP US
For Bookings, Prices and more Infos
Contact Us
For more information please contact us directly
Other Clubs You May Like
Best party hotspots in Las Vegas
DJs Mix, EDM, and Hip Hop
No Clubs Found
See All Clubs