Intrigue
3131 S Las Vegas Blvd, Las Vegas, NV 89109, USA
WHATSAPP US
For Bookings, Prices and more Infos

Book Your VIP Table
Contact your 24/7 Global Nightlife Concierge for last minute booking and further questions.
Intrigue Las Vegas Bottle Service and VIP Table Booking
You would be intrigued by the allure of the Intrigue Las Vegas that promises to captivate your senses. Offering around 14,000 square feet of sprawling space, the Intrigue nightclub in Las Vegas houses stunning interiors and high-energy excitement that has been bathed in the state-of-the-art sound & light ambiance. Step out on the glorious patio for enjoying an up-close vantage of the spectacular waterfall & pyrotechnics. Experience dazzling performances by the famous DJs and other special guests at the Intrigue Las Vegas. The nightclub's every corner offers an enticing opportunity to surprise & engage you effectively. Every table of the club offers an exclusive VIP experience. The entire space of the Intrigue is a high-energy ready-to-dance atmosphere featuring music playing from different genres. An everlasting experience for every guest at the Intrigue in the same. Satiate your curiosity and be assured to experience a night that you will not forget soon.
Intrigue Club Las Vegas Information
What is the address for Intrigue?
The Intrigue is located at 3131 S Las Vegas Blvd, Las Vegas, NV, 89109 just in front of the
Wynn Las Vegas
.
What is the entry fee for Intrigue?
The entry fee at the Intrigue nightclub ranges from $25 -$45. The entry fee usually depends on the occasion or the particular day at the club.
How can I get on the guestlist of Intrigue?
We have got your VIP guestlist covered at the Intrigue nightclub. Reach out to us at WhatsApp or through our call services now and be assured of being the part of the impressive crowd at the nightclub. With the help of our 24/7 nightlife concierge services, experience the grandeur of amazing nightlife scene in Las Vegas.
How to book a VIP table at Intrigue?
VIP table bookings at the Intrigue can be made in advance for ensuring the VIP-like treatment at the nightclub. You can assure your ease of table bookings at the Intrigue nightclub by reaching out to us at WhatsApp or through our professional call services. We assure you the most instant and hassle-free table booking services at the Intrigue nightclub in Las Vegas.
What is the dress code for Intrigue?
In order to get entry to one of the
best night clubs in Las Vegas
, you are supposed to be dressed appropriately. The Intrigue nightclub allows guests who come in smart, elegant dress that never fails to impress the overall crowd. Therefore, be at your fashionable best when visiting this nightclub next time.
Opening Times
| a | b |
| --- | --- |
| Sunday | Closed |
| Monday | Closed |
| Tuesday | Closed |
| Wednesday | Closed |
| Thursday | 10:30 PM To 04:00 AM |
| Friday | 10:30 PM To 04:00 AM |
| Saturday | 10:30 PM To 04:00 AM |
Floor plan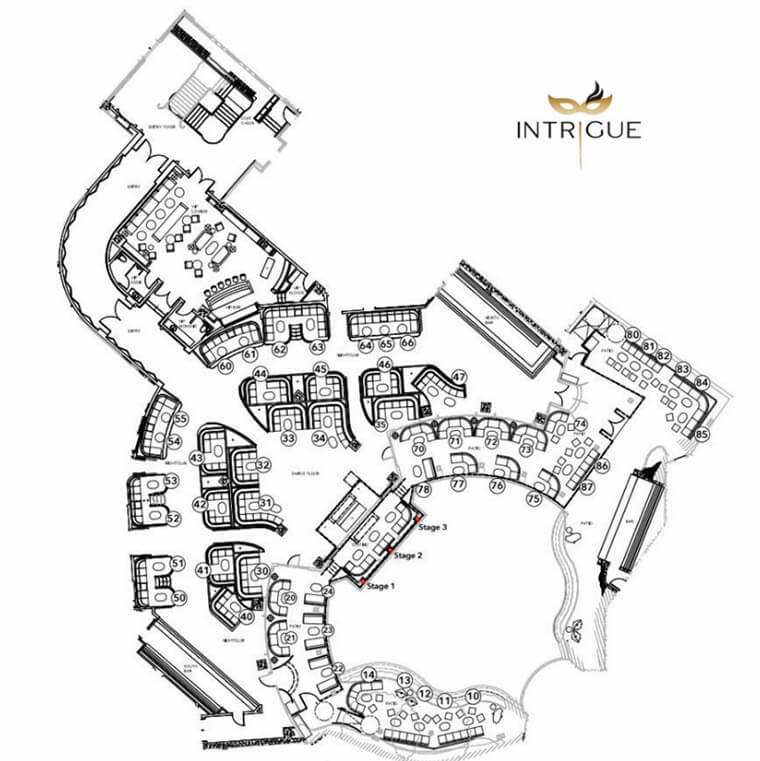 Please get in touch with our nightlife concierge on whatsapp to receive latest table floor plan.
WHATSAPP US
For Bookings, Prices and more Infos
Contact Us
For more information please contact us directly
Other Clubs You May Like
Best party hotspots in Las Vegas
DJs Mix, EDM, and Hip Hop
No Clubs Found
See All Clubs