Chateau
Paris Hotel 3655 S Las Vegas Blvd Las Vegas , Nevada 89109
WHATSAPP US
For Bookings, Prices and more Infos

Book Your VIP Table
Contact your 24/7 Global Nightlife Concierge for last minute booking and further questions.
Chateau Las Vegas Bottle Service and VIP Table Booking
Chateau Las Vegas provides a high-energy party experience with a distinct Parisian vibe. Aside from boasting a spectacular view of Bellagio's Fountains, Chateau provides a venue with lush greenery reminiscent of Versailles' lavish garden.
Chateau Las Vegas is 2-storey building located just below the Eiffel Tower in Paris Las Vegas. The nightclub on the second floor has modern French designs and the VIP seating areas near the dance floor promises a fantastic nightlife experience for partygoers.
Chateau Club Las Vegas Information
What is the address for Chateau?
Chateau is located at 3655 S Las Vegas Boulevard.
What are the opening hours of Chateau Las Vegas?
It is open every Wednesday, Friday and Saturday from 10:30 PM until 4 AM. Expect a jam-packed venue during Saturday, the busiest night in the club.
What is the entry fee for Chateau?
Chateau's facilities and location bring you a one-of-a-kind and luxurious nightclub experience in Las Vegas. To join in the fun, expect to pay an entrance fee to enter the premises. General admission for women is $ 20 and $ 30 for men.
What is the dress code for Chateau?
Guests who are 21 years old and above are the only ones allowed to enter into one of the
best night clubs in Las Vegas
. Guests must present an ID as proof of age. Upscale attire is a must so guests must come in their classiest party clothes.
What is the price for Chateau Las Vegas Bottle Service?
There are four special bottle packages in Chateau Las Vegas that you ought to know before you enter the club. Package 1 is suitable for four guests at a price of $ 400 with a bottle of champagne and Belvedere Vodka. Package 2 costs $ 500 and can accommodates six guests with two bottles of Belvedere Vodka. For a larger group of guests, Chateau Las Vegas has Package 3, worth $ 600, ideal for eight individuals with one bottle of Magnum Belvedere and one bottle of Champagne. For a group of 10 guests, pay $1,000 and enjoy one bottle of Magnum Belvedere and two bottles of Veuve Champagne. Take note that these bottle service package rates are subject to change especially during holidays and special events. Package 1 increases to $ 575, Package 2 becomes $ 675, Package 3 costs $ 750 and for Package 4, it would be $ 1,150.
How can I get on the guestlist of Chateau?
For complete details of Chateau guestlist, contact Club Bookers as soon as possible to reserve your slots. The club offers free guestlist for girls before the clock strikes 12 midnight while for men, a $ 10 off the guestlist cost is given.
Opening Times
| a | b |
| --- | --- |
| Sunday | Closed |
| Monday | Closed |
| Tuesday | Closed |
| Wednesday | 10:30 PM To 04:00 AM |
| Thursday | Closed |
| Friday | 10:30 PM To 04:00 AM |
| Saturday | 10:30 PM To 04:00 AM |
Floor plan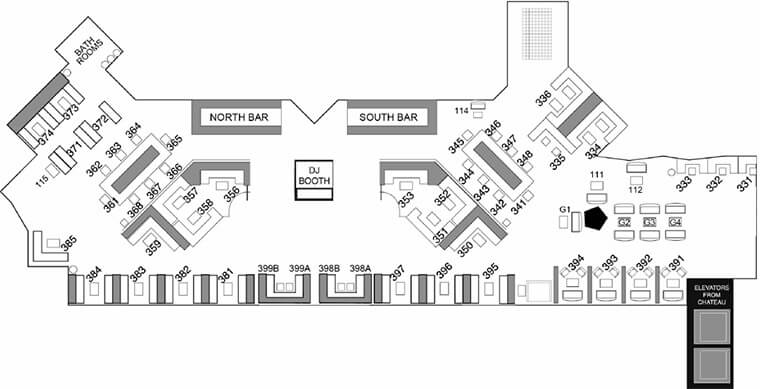 Please get in touch with our nightlife concierge on whatsapp to receive latest table floor plan.
Jess
27.02.2020
Music is incredible and the shows are just amazing and they keep having new ones every single week. Service is on point. I'll definitely be back.
Paloma
27.02.2020
A fantastic club and awesome vibe, and outstanding service! My friends and I had a great time. Highly recommend to everyone when in Vegas
WHATSAPP US
For Bookings, Prices and more Infos
Contact Us
For more information please contact us directly
Other Clubs You May Like
Best party hotspots in Las Vegas
No Clubs Found
See All Clubs
24/7

VIP NIGHTLIFE CONCIERGE

Contact Us Now For Bookings, Prices and Party Recommendations