1 Oak
3400 S Las Vegas Blvd, Las Vegas, NV 89109, USA
WHATSAPP US
For Bookings, Prices and more Infos

Book Your VIP Table
Contact your 24/7 Global Nightlife Concierge for last minute booking and further questions.
1 Oak Las Vegas Bottle Service and VIP Table Booking
1 Oak Las Vegas is the embodiment of sophistication, world-class clubbing experience, and ultimate nightlife experience when you are in Las Vegas. Blending intricate art and immense fashion, 1 Oak in Las Vegas represents the passion of those who need some high-end fun & enjoyment in their life. Spread over a sprawling 16,000 square foot area, the nightclub features meticulously detailed architecture and elegant décor. 1 Oak nightclub at the Mirage in Las Vegas embodies world-class, chic clubbing services to the Las Vegas nightlife scene. You can go forward with expecting the unexpected at the 1 Oak nightclub as you can come across some unannounced appearances from the A-listers, leading celebrities, and elite class that might add flavor to your amazing night. Be prepared to get carried away with the club's madness right on three nights a week.
1 Oak Club Las Vegas Information
What is the address for 1 Oak?
The 1 Oak is located at
The Mirage
, 3400 Las Vegas Blvd South, NV, 89109.
What is the entry fee for 1 Oak?
The entry fee for the amazing 1 Oak nightclub in Las Vegas starts at $40 for men and around $30 for women. Get yourself immersed in the club's madness by making pre-bookings with our help.
How can I get on the guestlist of 1 Oak?
As you can be greeted by some unannounced celebrities, VIP guests, and A-listers of the city, mark your presence at the nightclub by being a part of its impressive guestlist. Join 1 Oak guestlist by reaching out to us at WhatsApp or through call services. Avail our excellent 24/7 concierge services to experience the grandeur like never before.
How to Book a VIP table at 1 Oak?
If you wish to book the exclusive VIP table at the magnificent 1 Oak Las Vegas, contact us immediately on our WhatsApp number. You can also reach out to us on call. Make your bookings in advance and never miss a chance to experience the mad nightlife scene of the happening Las Vegas city.
What is the dress code for 1 Oak?
The dress code at 1 Oak can be described as the "upscale chic". Attires like hats, excessive jewelry, chains, shorts, baggy attire, sportswear, sneakers, sunglasses, flats, or sports shoes are simply not allowed at the nightclub's entry. Entry is always allowed at the doorman's discretion. Therefore, dress up in the most fashionable manner to get entry to one of the
best night clubs in Las Vegas
.
Opening Times
| a | b |
| --- | --- |
| Sunday | Closed |
| Monday | Closed |
| Tuesday | Closed |
| Wednesday | 10:30 PM To 04:00 AM |
| Thursday | Closed |
| Friday | 10:30 PM To 04:00 AM |
| Saturday | 10:30 PM To 04:00 AM |
Floor plan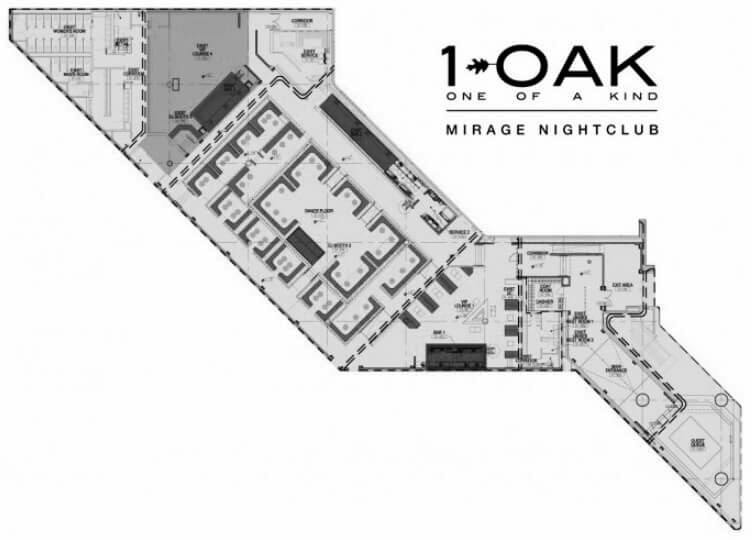 Please get in touch with our nightlife concierge on whatsapp to receive latest table floor plan.
Pedro
27.02.2020
One of the best nights I have ever had. Great atmosphere, nice decor, classy crowd and good service. Highly recommend it. Be prepared for long queues
Rob
27.02.2020
Went here for my friends birthday and had a great time. The music and the service is awesome. Great atmosphere & awesome light schemes.
Jenn
27.02.2020
1Oak is one of the best clubs to my opinion in vegas. VIP packages are also reasonable as far as Vegas goes. Highly recommend it for a birthday or special occasion.
WHATSAPP US
For Bookings, Prices and more Infos
Contact Us
For more information please contact us directly
Other Clubs You May Like
Best party hotspots in Las Vegas
No Clubs Found
See All Clubs
24/7

VIP NIGHTLIFE CONCIERGE

Contact Us Now For Bookings, Prices and Party Recommendations